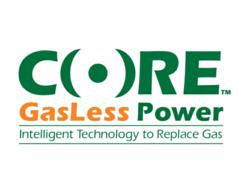 OPE, Inc. (DBA. CORE Outdoor Power) has designed and continues to develop a revolutionary new motor technology called

C

onductor

O

ptimized

R

otary

E

nergy (CORE™) specifically for use in its new line of "Gasless™" emission-free outdoor power equipment. CORE™ air-cooled motors are extremely light weight and have the ability to produce as much power as two-cycle gas engines currently used for a variety of professional and consumer outdoor power equipment products. CORE Outdoor Power has obtained exclusive, worldwide rights to the CORE™ technology for use in outdoor power
equipment applications through a license agreement with Core Motion, Inc.
Starting in the first quarter of 2012 and with initial orders in hand, CORE Outdoor Power will launch the first of a line of products, the CORE™-powered Gasless™ trimmer (shown above), leveraging established relationships with commercial dealers, key retailers and OEMs involved in the $3 Billion+ handheld consumer and professional outdoor power equipment markets.